Three Nights Before Christmas | By Kat Latham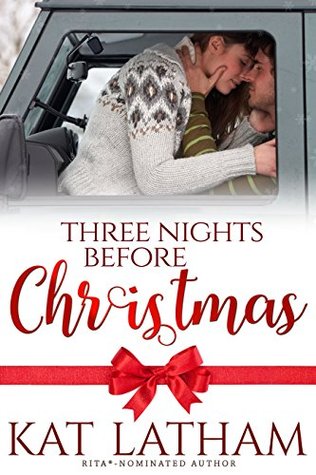 Lacey Gallagher gets the oddest of Christmas gift this season – a parole. She knew that facing the outside world after going down from being a freight engineer to an ex-con was never going to be an easy task. But working in her brother's Christmas tree farm contributing her share to the family business would keep her away from all prying eyes or so she thought. Austin Wilder, the officer who took charge of the…
About the Author
Kat Latham is the author of contemporary romance novels (hot!!!) and she is from California. She spent some time in Europe where she taught English in Prague and worked for a London based humanitarian organization. Currently, she is settled in the Netherlands with her family. Kat also writes and edits for charities. She has traveled to Kenya, Ethiopia, and India to write about people who help rebuild their communities after disasters. Three Nights Before Christmas is the third book in the Wild Montana Nights series and is also a RITA awards finalist books.
Synopsis
Lacey Gallagher gets the oddest of Christmas gift this season – a parole. She knew that facing the outside world after going down from being a freight engineer to an ex-con was never going to be an easy task. But working in her brother's Christmas tree farm contributing her share to the family business would keep her away from all prying eyes or so she thought. Austin Wilder, the officer who took charge of the case to send her to prison had to be on the same forest.
As much as they both wanted to be out each other lives, fate had other plans. Austin promised a Christmas gift to his family and he desperately needs Lacey's help to get it done. Will these two get over their bitter history and work together?  Will they get a second chance to amend their mistakes this Christmas?
My thoughts
I received this book in exchange for an honest review from Author Marketing expert. I would like to thank them and the author for providing me with a copy of this book. This was defintely an enjoyable read.
Narrative and plot
This is a straightforward book. There is no experimenting in terms of narrative and sometimes that is enough to tell the story. It was simple and direct. I enjoyed that. Again I know nothing about Montana or how Christmas happens there. So, there might be cultural references that I missed.
Let me make this clear, this book is for romance readers only. I mean it is pretty obvious but if you have to love this book, you have to be a fan of the genre. I enjoy a good romance book and so, my rating and opinions are based on that. The book does have an ample dose of steamy scenes written in elaborate detail, so I would advise age discretion accordingly.
Now moving on to the plot, a Christmas read is expected to be all light and warm as if the whole world is happy all the time. I enjoy those books no doubt. But this one trumps that notion. It is grounded and real with people struggling to get by the season forgetting their worries for a while finding comfort in the festive times.
Characters and Conflict
Lacey Gallagher is not your damsel in distress. She had been naïve once and paid a heavy price for being so. But her life in prison hardened her and she developed a hard shell trying to guard herself against feeling anything or rather expressing anything. She had her wit to help and she was dealing with the broken pieces of life a few weeks before Christmas.
Austin Wilder believed that he had seen through the innocent act of Lacey when he sent her to prison three years back. But when he got to know her on second innings, he started having doubts over his judgment. Often, it is easier to dismiss a person's plea for innocence as a show but if an innocent person had to suffer because of such lapse of judgment, no officer of the law can bear that weight.
With that, we have two strong personalities set against each other. Two people who should have nothing but contempt for each other. If you enjoy characters who feel real, rather than just a "naturally beautiful" heroine and a"ruggedly handsome" male lead, then this book is for you.
Lacey is not even in her best shape after her life in prison. I am glad the book addressed such things because it makes these people more real.
The only part I couldn't get along was the sudden outburst of attraction between these two. It felt a bit forced. However, I am glad the book waited till the two got along for a while rather than jumping into the bones at the first chance. Apart from that, it was just right, the pacing, the tension and the effort they had to put in the relationship because of the gritty past they had. Also, surrounded by enough lively characters ( with separate stories in different books ) and intervention from fate, Lacey and Austin make up for an unforgettable Christmas couple.
Conclusion
Summing up, this is a contemporary romance book you can pick up on a Christmassy afternoon with a glass of wine and chocolate. (I had the chocolate and a grape drink!! ) This is a romantic story gift wrapped especially for the Christmas season.
Get your book here :
Goodreads
Three Nights before Christmas by Kat Latham
My rating: 4 of 5 stars