Christmas At the Beach Cafe | By Lucy Diamond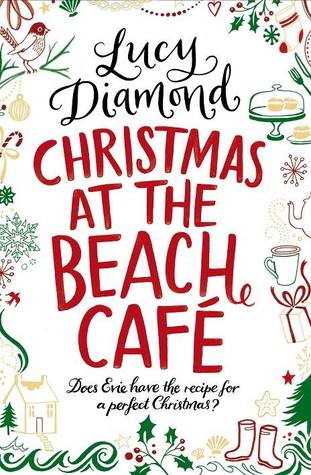 Christmas At The Beach Café is a novella where Lucy Diamond revisits her characters from the Beach Café.
Here we are on Day 25 of #Blogmas 2018!! I can't believe I actually did this. It has been a great month and I would like to thank each and everyone of you readers who took the time to read my posts, like them and comment on such a busy season.
Merry

Christmas

Everyone!!!
About the Author
Christmas At The Beach Café is a Christmas special written by Lucy Diamond. Sue Mongredien writes under the pen name "Lucy Diamond" because she has written many children's books and likes to keep both the genres separate. She has worked in publishing, travelled a lot around the world and is now settled in Bath with her family.
Synopsis
Christmas At The Beach Café is a novella where Lucy Diamond revisits her characters from the Beach Café. Evie Flyn has planned the perfect romantic Christmas with her boyfriend Ed at the Beach café. If only things went as planned in life especially during Holiday season. With unexpected visitors tensions rise and Evie's plans seem to fall apart one by one. Could she manage to salvage what is left of her Christmas "plans"?
My thoughts
I listened to the #audiobook and perhaps that is the best way to know this story.
You know sometimes you look at the cover of a book and expect a certain feeling while reading a book? Ok… yeah, judging a book by the cover!! But sometimes you are so right that you give yourself a pat on the back for doing so. If you revisit my Christmas reading list post, I have mentioned that I went blindly for this book because I liked the cover!! Well, I am glad that I did.
Narrative and plot
If you are familiar with Bookbugworld, you know that Sophie Kinsella is my favourite author. That means, I love a female protagonist who is funny, witty and is self-aware at the same time. Evie Flyn is your Bridget Jones genre of protagonist who brings a smile to your face. Her voice kept the story alive and we get everything we want from a holiday book. There is drama, fun, passion and a certain festive charm which I enjoyed.
The plot even though short had my complete attention. I never connect to stories where families meet properly and have a formal meal or quite eccentric situation where you can almost read the other person's mind. Whereas here the confusion and the things it led to was all well-structured for such a short story.
Characters and Conflict
The more I read, the more I was curious to read Beach Café. From what I got in this book, I loved Evie, Amber, Ed and Jake who happen to be the main people in the story. I wanted to know more about them and isn't that a sign of good character development?
There is no conflict bigger than a family drama!! Any festival that included a family get together is bound to have a family drama. The building tension between the characters and their immediate reaction to it felt completely natural and relatable. You can just feel the conflict simmering up and you can tell the boiling point has reached and fortunately it is not dragged beyond a point to create more drama which often happens in women's fiction.
Conclusion
Overall, I enjoyed the book. It was a light read perfect for the holiday season. Especially if you are struggling to keep up with your reading challenge and at the same time want a quick holiday read.