An Unwanted Guest | By Shari Lapena
Book Review | Mystery Thriller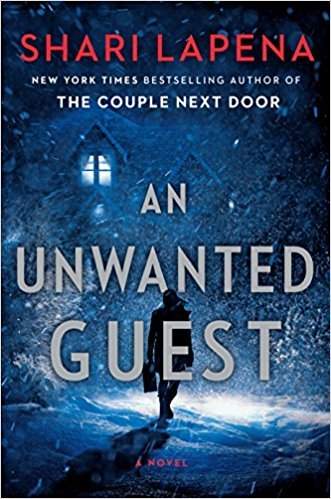 Synopsis :
A weekend retreat at a cozy mountain lodge is supposed to be the perfect getaway . . . but when the storm hits, no one is getting away

It's winter in the Catskills and Mitchell's Inn, nestled deep in the woods, is the perfect setting for a relaxing–maybe even romantic–weekend away. It boasts spacious old rooms with huge woodburning fireplaces, a well-stocked wine cellar, and opportunities for cross-country skiing, snowshoeing, or just curling up with a good murder mystery.

So when the weather takes a turn for the worse, and a blizzard cuts off the electricity–and all contact with the outside world–the guests settle in and try to make the best of it.

Soon, though, one of the guests turns up dead–it looks like an accident. But when a second guest dies, they start to panic.

Within the snowed-in paradise, something–or someone–is picking off the guests one by one. And there's nothing they can do but hunker down and hope they can survive the storm–and one another.
My thoughts
Narrative and Plot
An Unwanted Guest is a closed-circuit mystery thriller. You have a group of people trapped in a snowed-in Inn and people start dying one by one. The story creates a separate world with its narrative. We get multiple points of view which gives us an insight about each character and where they come from.
The plot is your usual gang of people dealing with murder around you with no way of communicating with the outside world. Perhaps this book came out before the trend actually began. It would have been great if I read it a few years back. But this one just like feels like a rinsed and repeated version of the same plot. I have read The Guest List, Hunting Party, Daisy Darker, and And Then There Were None, all books with similar plots and some even better than this one. It never acknowledges a few plot holes like why isn't there a generator if power outages are expected and they prepare for it by keeping oil lamps?
Characters and Conflicts
The distinct characters are the highlight of the story. The central theme of the book is how would you know if someone is capable of evil. The author even makes us a part of this theme because you are bound to make assumptions of your own as each character and their history is revealed.
The book created the sense of danger and an atmospheric vibe of being trapped in a remote location quite well. The central conflict is basically the primal instincts of human beings when they are removed from society. I love themes like that and the book does a great job of showcasing the same.
Conclusion
Overall, I enjoyed the theme of the story. However, the story didn't bring anything new to the table. It is a quick one-time read if you are in the mood for a Knives Out mystery kind of situation.
---