Harpyness is Only Skin Deep | By D H Willison
Book Review | Fantasy | TheWriteReads Blog Tour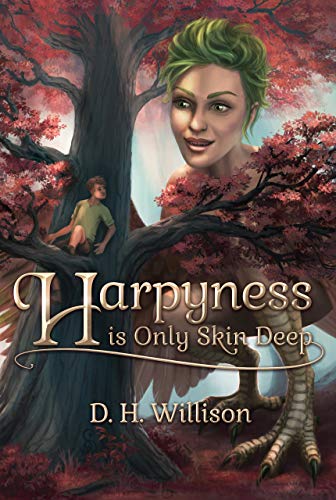 Synopsis :
On a world where death lurks around every corner, is friendship the strongest survival tool of all?

Darin: bored with his paper pusher existence, he accepts a questionable deal for the LARP adventure of a lifetime. A jump through a dimensional portal strands him on the mythical world of Arvia, where everything is gigantic. Except the life-expectancy of newcomers.

Rinloh: a mere ten meters tall. Life in the harpy flock has never been easy for her. Determined to become full-fledged at the upcoming human-hunt, nothing is going to stand–or fly–in her way.

A chance encounter between these two–what could possibly go wrong?

Humans consider consorting with a harpy a capital offense. Harpies consider the human citizens a tasty part of a balanced diet. Yet the two must overcome a most monstrous conspiracy as the citizens of the city begin disappearing, with a list of suspects as big as the inhabitants of Arvia.

Harpyness is Only Skin Deep blends endearing characters and whimsical fantasy adventure in a uniquely witty, charming style. Contact your neighborhood dimension broker, or download Harpyness, and jump into the world of Arvia today.
My thoughts

Narrative and Plot
Harpyness is Only Skin Deep is told from different perspectives, but mainly through the two central characters, Darin and Rinloh. Darin has a witty energy while Rinloh is innocent yet feisty. The humor in the book makes it quite an easy read. 
The story starts slow at first, but once it picks up the pace, it keeps you hooked.
Characters and Conflicts
Darin is your protagonist. The one who enters Arvia from Earth. It is easy to root for him and begin the journey of adventure with him. However, initially, it was hard for me to empathize with his character.
Darin jumps at the chance to upend his life and venture into a new one. There is not a single connection in Earth that has the potential to create doubts in his mind. Of course, the focus of the story is Arvia and not Earth. It would have made it easier to root for Darin. However, as the story progresses he clearly forms relationships and makes connections with other people. There is a definite character arc for him.
Rinloh on the other hand, is adorable. She completely stole the show with her childlike innocence and fresh perspective as a giant predator.
The book did a good job of crafting a conflict and making you invested enough to see it get resolved.
Conclusion
Overall, I enjoyed the book after I got past the initial slowness. It is not just a fantasy adventure story. The book deals with several themes and the layers of humanity when you are no longer the most dangerous predator in your world. 
---
I received an e-ARC of the book in exchange of an honest review for TheWriteReads Blog Tour.