Christmas in the Fictional World
It is the seventh day of blogmas!! The other day I was making a classic booklist and as soon as I thought of Little Women, the words that came to my mind were "Christmas won't be Christmas without any presents."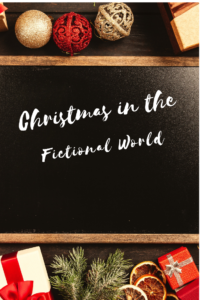 Some bookish quotes are quite unforgettable.  Tis Christmas time in the fictional world!!
Here is a sneak peak of the Christmas mentions in some of our favorite books :
"One can never have enough socks," said Dumbledore. "Another Christmas has come and gone and I didn't get a single pair. People will insist on giving me books."
~~ J.K. Rowling, Harry Potter, and the Sorcerer's Stone
"At Christmas, everybody invites their friends about them, and people think little of even the worst weather" – Mr. Weston.
~~ Emma, Jane Austen
"At Christmas, I no more desire a rose than wish a snow in May's new-fangled shows"
~~ Willaim Shakespeare, Love's Labour's Lost
Lady Russell remarks, "I hope I shall remember in future not to call at Uppercross in the Christmas holiday."
~~  Jane Austen, Persuasion
"What kind of Christmas present would Jesus ask Santa for?"
~~ Salman Rushdie, Fury
"Christmas shopping! I can do all my Christmas shopping here! I know March is a bit early, but why not be organized? And then when Christmas arrives I won't have to go near the horrible Christmas crowds."
~~ Sophie Kinsella , Confessions of a Shopaholic
"A lovely thing about Christmas is that it's compulsory, like a thunderstorm, and we all go through it together."
~~ Garrison Keillor, Leaving Home
"God put Santa Claus on earth to remind us that Christmas is 'sposed to be a happy time."
~~ Bille Keane, Jeffy's Lookin' at Me
"I will honor Christmas in my heart and try to keep it all the year "
~~ A Christmas Carol, Charles Dickens
"Christmas doesn't come from a store, maybe Christmas perhaps means a little bit more."
~~ Dr Seuss, How the Grinch Stole Christmas
Hope you enjoyed that scroll down the memory lane!!
Happy reading for the weekend!!