BBNYA Semifinalist Spotlight Tour | 29 Nov 2022
Dear Bookbugs,
This year, the Book Blogger's Novel of the Year Award (BBNYA) is celebrating the 50
books that made it into Round Two with a mini spotlight blitz tour for each title.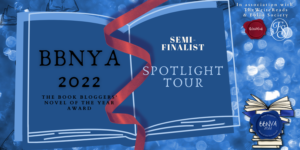 I am trying my best to be a part of this spotlight blitz. Today's BBNYA semifinalist spotlight features the book named 'The Hurtle of Hell: An Atheist Comedy Featuring God and a Confused Young Man from Hackney' by  Simon Edge. 
Blurb :
Gay, pleasure-seeking Stefano Cartwright is almost killed by a wave on a holiday beach. His journey up a tunnel of light convinces him that God exists after all, and he may need to change his ways if he is not to end up in hell.

When God happens to look down his celestial telescope and see Stefano, he is obliged to pay unprecedented attention to an obscure planet in a distant galaxy, and ends up on the greatest adventure of his multi-aeon existence.

The Hurtle of Hell combines a tender, human story of rejection and reconnection with an utterly original and often very funny theological thought-experiment. It is an entrancing fable that is both mischievous and big-hearted.
About the Author :
Simon Edge was born in Chester and read philosophy at Cambridge University.
He was editor of the pioneering London paper Capital Gay before becoming a gossip columnist on the Evening Standard and then a feature writer and critic on the Daily Express. He has an MA in Creative Writing from City University, London, where he also taught literary criticism.
He is the author of five novels, all published by Lightning Books: The Hopkins Conundrum, longlisted for the Waverton Good Read Award, The Hurtle of Hell, A Right Royal Face-Off, Anyone for Edmund? and The End of the World is Flat.
He lives in Suffolk.
Twitter/Insta: @simonjedge
If you are interested in this atheist comedy, give it a try. You can find it on all the popular online platforms.
Amazon: https://www.amazon.ca/Hurtle-Hell-Atheist-Featuring-Confused-ebook/dp/B07G32YX5L (Canada)
https://www.amazon.com/Hurtle-Hell-Atheist-Featuring-Confused-ebook/dp/B07G32YX5L (USA)
https://www.amazon.co.uk/Hurtle-Hell-Atheist-Featuring-Confused-ebook/dp/B07G32YX5L (UK)
Goodreads: https://www.goodreads.com/book/show/39305396-the-hurtle-of-hell
Happy Reading Everyone!!
---