WWW Wednesday | 18 May 2022
Dear Bookbugs,
We meet again with another WWW Wednesday book meme!
The WWW Wednesday meme was hosted by MizV at A Daily Rhythm. It is now revived by Taking a World of Words.
This is a simple  meme where you have to answer the three W's of a reader's life.
What are you currently reading?
What did you recently finish reading?
What do you think you'll read next?
And then link the host's blog to your post and if possible leave a comment in theirs.
After a few dull months of reading, I am getting back to a rhythm. It is not too much but I am happy with my pace. So here I am, sharing my weekly reading update with you.
1)What are you currently reading?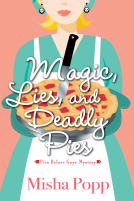 Currently, I am reading Magic Lies and Deadly Pies by Misha Popp. This is a cosy mystery with a touch of magic. Our main character has a gift of making magical pies and she is using her talent by being a vigilante. However, she lands herself in a pickle after an unexpected event happens. So far, I am having a good time.  I won't call it a compelling page-turner but the book has this warm and cosy feeling of a pie and I am all in for that. I am yet to encounter the mystery element even though I have read about 25% of the book. If only the mystery element is as great as the pie, it would be the perfect cosy mystery to curl up with.
2)What did you recently finish reading?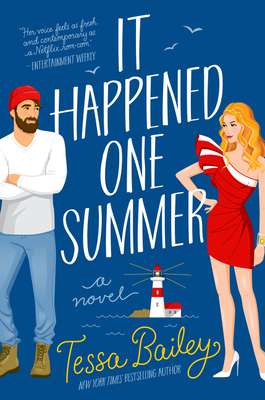 I have been hearing a lot about Hook Line and Sinker in the bookish community. The method reader that I am, I cannot skip order in a series even if it is a companion novel. Well, I don't like to be left out on the inside jokes, if you know what I mean. So I started with It Happened One Summer. After binging Schitt's Creek, I knew exactly what to expect, and the book delivered just that. It didn't try to be anything else. This is a fun romantic comedy set on a beachside village and I sure as hell became part of that world while reading it.
3)What do you think you'll read next?
The next book that I am planning to read is A Girl Like That by Tanaz Bhathena. This is a YA mystery thriller. The book starts when the main character and her male friend are found dead in a car crash in Jeddah. Zarin is the girl that your parents warn you to be not friends with, but a journey into her past reveals she is so much more than " a girl like that" label. I am really looking forward to reading this one. I am expecting emotional rollercoasters and intrigue all bundled up in a neat package. 
Those are my weekly reading updates. I hope you enjoyed reading about them. Let me know in the comment section, what book you are reading at the moment. How do you feel about it? I would love to know that.
Happy Reading Everyone!!