BBNYA Semifinalist Spotlight Tour | 01 Nov 2022
Dear Bookbugs,
This year, the Book Blogger's Novel of the Year Award (BBNYA) is celebrating the 50
books that made it into Round Two with a mini spotlight blitz tour for each title.
Here in the Bookbugworld, I am trying to be a part of the spotlight sprint.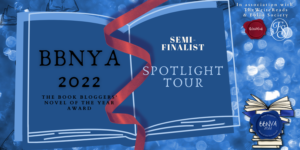 If you aren't aware of the BBNYA awards, it is an annual award for indie books. BBNYA is organized by TheWriteReads in association with The Folio Society. The best part of BBNYA is that it is read and scored by book bloggers from all over the world.
Today's BBNYA semifinalist spotlight features the book named 'All the Whys of Delilah's Demise' by Neve Maslakovic.
Blurb :
Life under the Dome of New Seattle is grim unless you're one of the Tenners, the city's ten most popular residents. When a deadly accident puts Scottie under close scrutiny, she must use her brain chip to help prove her innocence — or be exiled to the frozen wasteland outside the city gates.

"Neve Maslakovic's story is a standout… Scottie's journey reaches into the reader's heart" – D. Donovan, Senior Reviewer, Midwest Book Review
Author Bio :
Neve Maslakovic writes mysteries set in speculative worlds. In her books, no place is safe from the criminal element—including an academic time-travel lab, a parallel universe, and a Seattle of the future. Neve's life journey has taken her from Belgrade, Serbia to a PhD at Stanford University's STAR Lab to her dream job as a writer. She lives with her husband, son, and highly energetic goldendoodle in the Twin Cities, and is currently hard at work on a new series.
If this one gets your interest, make sure to check it out on all popular online platforms. 
Happy Reading Everyone!!