Blog Tour Spotlight | Home Truths With Lady Grey | By Katherine Blessan
Dear Bookbugs,
Today's spotlight is in association with Katherine Blessan's blog tour for her contemporary fiction novel, Home Truths With Lady Grey.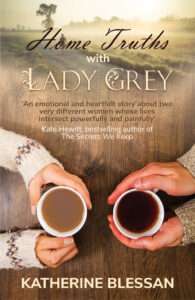 Here's the synopsis of the book :
'My world is narrowing, constricting down to the thin end of a funnel.' When normally capable, career-minded Jennifer crumbles under a debilitating disease, she struggles with no longer being in control of her life. In the meantime, Mona, a family-oriented mother of Iranian heritage, finds out that her husband is gambling and hiding the truth from her. Can she move beyond betrayal to action?

When Mona goes to work for Jennifer as a carer, Jennifer is initially defensive, but the two soon discover that despite their differences they have so much to learn from one another. Will Mona discover how to balance the conflicting loyalties of family and self? Will Jennifer learn to let others in? And most importantly, will they both survive?
If you are familiar with my reading list, you might know that I am a fan of unlikely friendships between people who come from different circumstances. This one definitely sounds like a heartwarming read. 
---