Book Review | The Ship of Shadows | By Maria Kuzniar
TWR Blog Tour | Middle Grade Fantasy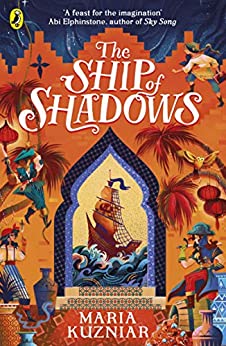 Aleja whiles away her days in her family's dusty tavern in Seville, dreaming of distant lands and believing in the kind of magic that she's only ever read about in books. After all, she's always being told that girls can't be explorers. But her life is changed forever when adventure comes for her in the form of a fabled vessel called the Ship of Shadows. Crewed by a band of ruthless women, with cabin walls dripping with secrets,…
My thoughts
Narrative and Plot
Honestly, I don't have enough words for the Ship of Shadows. But let me just share this. The last time I felt this happy and enthusiastic after finishing a book was The Valley of Adventure by Enid Blyton. I am not exaggerating at all.
As an adult, I stay away from middle grade books thinking I am not the target audience. Now, I am rethinking the whole bias. Recent middle grade books that I have read, are proving otherwise. This is one is the perfect example for that.
The Ship of Shadows is brimming with child-like wonder and a sense of adventure. No one wants to miss out on that. The language is easy and simple. The emotions pure and sincere which makes you follow Aleja wherever she takes you.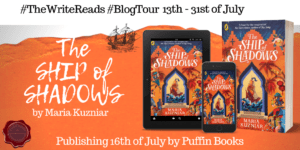 Characters and Conflicts
With a strong story comes strong characters. Every character in the book stands out. Although, if I am being honest, I prefer the company of Frances and her cakes. Any book that says, "What is more magical than food ?" is my kind of book. If I join an all female pirate crew, I would be the Frances of the group.
Ok enough about Frances. Not just her, everyone in this book has a distinct personality. By the first half of the book you get to know each character and their role in the crew along with Aleja. These are strong ladies who know exactly what they want. And this one totally aces the Bechdel Test.
 Now comes the action and adventure. Treading through rough seas – check. Slaying beasts – check. Fighting pirate hunters – check. Exploring unknown cities – check and finally Cakes – check. Never mind. You get the picture. When I read the blurb, these are all the things I wanted to experience and the book gave me that and beyond.
Conclusion
Overall, The Ship of Shadows is an adventure that you cannot afford to miss. It celebrates female friendship and loyalty without going overboard. This is a time when we are all giving up our little adventures – whether it is your once in a lifetime world tour or a little family trip to a restaurant. This is exactly the right time to set out on an adventure in a pirate ship. Bon Voyage!!
---
Disclosure :  1) I received an e-copy of the book from @TheWriteReads in exchange for an honest review for thewritereads blogtour.  Thank you TheWriteReads, Puffin Books and Maria Kuzniar for the opportunity.

              2)This website uses affiliate links. This is not a paid promotion but Bookbugworld will earn a small commission if you click on the link for purchase.