Not You Please | By Anuradha Dev
Book Review | YA Romance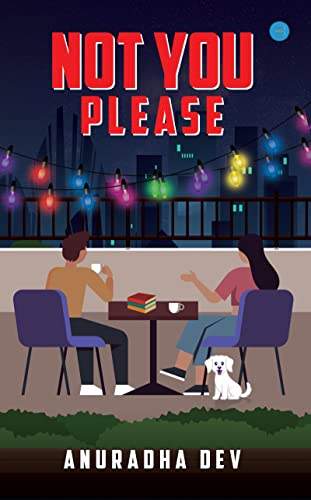 Synopsis :
Since the first time he humiliated her in middle school, Mishti has never seen Vikram as anything but an arrogant bully-gorgeous, but a bully just the same. Despite the fact that they attend the same high school, she's managed to avoid him after all, it's not like they run in the same social circles. But the year before graduation, their English teacher assigns Mishti and Vikram to a group project along with Saahil, Mishti's crush. The timing couldn't be worse…because this project has the potential to make or break Mishti's high school career. To get into New York University, her dream college, Mishti has to make this trio work. 

As they're forced to spend time together, Mishti is prepared for Vikram to be a lot of things-irresponsible, lazy, rude-but the last thing she expects is to like him. 

But with a history of hurt to get over, and a perfect guy like Saahil vying for her attention, will Mishti be able to trust Vikram with her heart again? 
My thoughts
Narrative and Plot
I decided to read Not You Please because it is one of the few YA romance reads that takes place exclusively in India. While we had some new adult stories written by Chetan Bhagat in the early days, which created a frenzy, there aren't many light-hearted Indian young adult romance reads that I have come across. The book delivers on that aspect as the story takes place entirely in Indore and deals with certain vulnerable aspects that most Indian teens can relate to.
It was a short read, and the pacing was just right. I finished it in one sitting, which clearly means it was fairly entertaining.
Characters and Conflicts
Mishti, Vikram, and Sahil are the three main characters in the story. We don't get too much information about Sahil, so that leaves us with Misti and Vikram.
With Mishti, there is an actual character arc which I appreciate. But Vikram starts as a spoilt brat and despite his many claims that he is a changed man now, there isn't much evidence to back that claim.
Mishti starts as an introvert and makes an effort to blossom into a confident teenager by the end of the story. She learns to let other people in. But there isn't a redeeming arc for Vikram. He comes off as that "poor rich boy" despite his many charms. The fact that he likes Mishti – the introvert- cannot be his redeeming quality. He comes through during a crisis, but that is basic decency. That does not qualify as an arc. So there it is. That's my take on the characters and conflicts of the story.
Conclusion
Overall, this was a fun one-time read for me. I didn't find anything refreshing or deep in this one. I don't know if I would recommend it to anyone. It could be too "filmy" for most people. But if you don't mind a simple hate-to-love teenage Indian YA romance, go for it.
---
I received a copy of the book from the author in exchange for an honest review.