Fool Me Once | By Ashley Winstead
Book Review | Contemporary Romance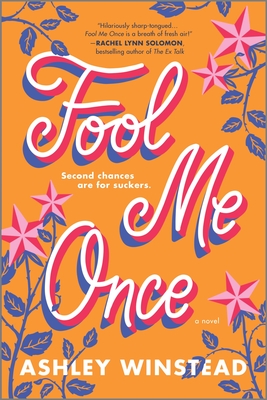 Synopsis :
Lee Stone is a twenty-first-century woman: she kicks butt at her job as a communications director at a women-run electric car company (that's better than Tesla, thank you) and after work she is "Stoner," drinking guys under the table and never letting any of them get too comfortable in her bed…

That's because Lee's learned one big lesson: never trust love. After four major heartbreaks set her straight, from her father cheating on her mom all the way to Ben Laderman in grad school—who wasn't actually cheating, but she could have sworn he was, so she reciprocated in kind.

Then Ben shows up five years later, working as a policy expert for the most liberal governor in Texas history, just as Lee is trying to get a clean energy bill rolling. Things get complicated—and competitive as Lee and Ben are forced to work together. Tension builds just as old sparks reignite, fanning the flames for a romantic dustup the size of Texas.
My thoughts
Narrative and Plot
Fool Me Once focuses mainly on the central character Lee Stone. More than a romance, this is a journey of self-discovery and self-growth, which is why it makes perfect sense that the entire story is narrated by Lee Stone aka Stoner.
The plot is mostly character-based. The rest of the events help boost this or create an obstacle in the protagonist's path. It was engaging and evenly paced. From the first scene to the last, it was dynamic. As a non-American who only has a cursory understanding of the US political scenario, I still enjoyed the build up around that.
Characters and Conflicts
Second-chance romances are a peculiar trope. There is a very thin line where we can forgive the misgivings of the main character and root for them. However, here, Stoner is a highly flawed character. And not in that reserved or misunderstood but good-at-heart kind of way. She is – for the lack of a better word – a messed up character. Her mistakes are fatal to herself and to those around her. Yet, she is a likable character. That is nothing less than brilliant writing.
Stoner is no Disney Princess. She is an everyday woman who has made some serious mistakes in her life. Growing up in a dysfunctional family has an immense effect on shaping who she is. The things she did and the amount of self-sabotage make you want her to earn that win.
It isn't an instant past attraction that resolves every other mental and emotional issue kind of story. Surprisingly, that happens a lot in modern-day romances. The story elaborately details Stoner's journey to trust and forgive herself.
The romance and banter were great. The only thing I would point out, just in a nit-picky way, is that Ben appeared to be almost flawless. He might have had a similar character growth, but it was a sort of behind-the-scenes.
Also, any self-growth journey needs a supporting system. Stoner's support system here was a delight to read.
Conclusion
Fool Me Once gave me more than what I had expected. It is a reflective romantic comedy that would make for a light-hearted read, but at the same time, not too shallow.
---