TheWriteReads Ultimate Blog Tour Spotlight | Straight Expectations | By Calum McSwiggan
Dear Bookbugs,
In today's TheWriteReads Ultimate blog tour spotlight, we have the YA contemporary romance "Straight Expectations" by Calum Mc Swiggan.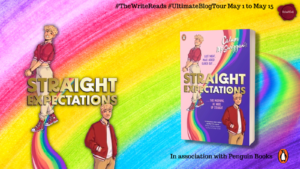 Synopsis : 
The brilliant debut novel from author, presenter and LGBTQ+ advocate Calum McSwiggan!

Seventeen-year-old Max has always been out, proud and just a little spoiled. Frustrated by the lack of romantic options in his small-town high school, during an argument with his lifelong best friend Dean, Max lashes out and says he wishes he had never been born gay.

Max gets more than he bargained for when he wakes up to find his wish has come true – not only have his feelings for boys vanished, but so has Dean.

With his school life turned upside down and his relationship with his family in tatters, Max sets out on a journey of rediscovery to find a way back to the life he took for granted, and the romance he thought he'd never have.

A deliciously romantic YA debut that's What If It's Us and One Last Stop!
About the Author
Calum McSwiggan (born 21 May 1990) is a British YouTuber, blogger, and online radio presenter. McSwiggan creates video content on LGBT+ issues, mental health, and sex and relationships.[2][3][4] He began creating YouTube videos in 2013 and began hosting The Calum McSwiggan Show on Fubar Radio in 2017. 
That is one compelling premise. I love stories when the protagonist gets what they wish for and find out that what they thought they want isn't exactly what they need. If these kinds of romance reads are something that you enjoy, do not forget to add this to your TBR.
Happy Reading Everyone!!
---