Act Your Age , Eve Brown | By Talia Hibbert
Contemporary Romance | Book Review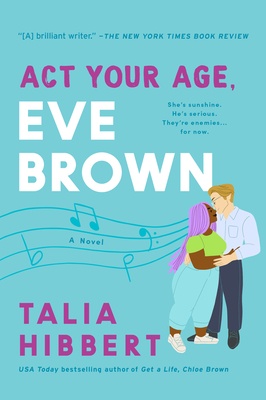 In Act Your Age, Eve Brown the flightiest Brown sister crashes into the life of an uptight B&B owner and has him falling hard—literally. (Goodreads)
My thoughts
Narrative and Plot
There is something so pleasing and positive about the whole Brown sisters series that it is impossible to not love these books. Act Your Age, Eve Brown is no different than the previous books. Narrated by the main characters , Eve and Jacob , the story just flows with ease and comfort that you're soon unaware of your surroundings. For a few hours you feel the joy of getting lost with Eve and Jacob and their little Bed and Breakfast.
The plot is sassy , fun and yet adorable enough that it brings a smile to your face.
Eve and Jacob are well rounded characters. They are confident people on the outside , but afraid to embrace it within themselves in the beginning. Their journey from hate to love is also accompanied by a journey of self acceptance. Like any good relationship, both of them add that element to each other's lives.
The hate to love was developed effortlessly. It was a joy ride. However, the conflict in the end didn't seem relevant as it got solved on its own in a matter of few pages. Also, the whole story was set up based on a certain event which ended up being mentioned in the passing. If that was a deliberate choice, it got me a deflated a little bit.
None of these takes away the fact that this is a must read for romance lovers.
Overall, I enjoyed reading Act Your Age Eve Brown and watching the familiar characters around her. If you're looking for something light , positive and fun go for it. You'll be in for a treat.
---