Maarjaranayaki (Feline Queen) | By N Mridula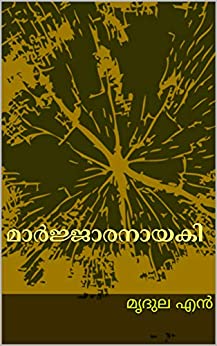 പറയാനാവാത്ത കഥകൾ ഉള്ളിലൊതുക്കുന്ന കഥാപാത്രങ്ങൾ..... എല്ലാവരും ആത്യന്തികമായി ഓരോരോ കഥകളാണെന്ന് ഓർമിപ്പിക്കുന്ന, ഹൃദയത്തോട് ചേർത്തുവെക്കാവുന്ന പന്ത്രണ്ട് മിനിക്കഥകളുടെ സമാഹാരം! ( Courtesy : Amazon_IN)
Before we begin, this is the first time I am reviewing a book in my native language – Malayalam. A collection of short stories.
Why it didn't happen before? Because I don't read books in Malayalam. They're too hard hitting and serious at times. It breaks my heart and I read to escape. Why now?
Because I was offered this book in exchange for an honest review by the Outset review program. Thank you Rakhi for providing me a copy. 
Maarjaranayaki which is roughly translated as feline queen, is a collection of twelve short stories. This is the first time I am reviewing a regional language book. Overall, this is a short and quick read. Yet the book is capable of stirring your emotions.
The first one is "Akasha Vilakkukal" meaning Lights of Sky. In a more literal sense, it refers to the floating lanterns, a metaphor to the stars. Those twinkling stars which we poetically refer to as lost souls. The story portrays one of the most painful grief with a simple scene. The loss of a child.
"Lajja" (Shame) is kind of a satire. On the first look, it might seem as a funny story of a mannequin. On closer examination you can draw the analogy on the objectification of the female body in this day and age and how normal it has become that no one ever realises it as something inappropriate.
"Parisamapthi" ( The End) This is about a young couple who fall apart due to mutual differences or do they? The simple story captures the pain anyone feels at the end of a relationship. However the way it ended might raise a few brows. It is open to many interpretations. Even though not as strong as the first two ones, it has that melancholy of a romance.
"Ennenekum" (Forever) – This is perhaps my favorite story among the whole lot. It draws a reference from Alice in Wonderland. The idea of forever no matter how long or short it is stresses the importance of living in the moment.
"Mazhakku Maathram Cheyyavunathu" ( What Only Rain Can Do) – As I write this review it is raining outside with a slight wind. It makes me appreciate the story even more. The greenery is a Keralite's heart. And anyone from Kerala can attest to it, that they find their home more greener every time it rains. Though not strongly conveyed, it hints at the erosion of the natural beauty because of the callousness of human minds. Now, sitting at home and watching the environment heal right in front of our eyes, even if for a short period is a humbling experience.
"Azhangal " (Depth) – This is an unrequited love story between the mountain and the valley. It is relatable to a generation of millennials like me, who grew up in households seeing many women being pushed in the sidelines while catering to the needs of their families.
"Madhurakothi" ( Sweet Tooth ) – This is a sweet story indeed. A  light-hearted fun tale about dental hygiene. Never saw that coming.
"Kadalasuthonikal " (Paper Boats) –  Again a subtle rendition of a hard hitting tale of child abuse. It addresses the nameless and faceless kids. Though it depicts the pain, the message in this one could have been more vivid.
"Jeevante Jalakam" ( Window of Life) – The story depicts the last moments in the life of an old woman. Even if the story is about a few seconds it explores the loneliness and helplessness of old age.
Puthiya Mukham (New Face) – As the name suggests, this is about new beginnings. A woman who is ready for a new life on new year eve. Though short, it makes you wonder more about the character.
Poornakshayam ( Complete Desent) – This is perhaps my least favorite of the whole lot of stories. Not that it had any issues. I didn't feel connected to the historical figure of Napoleon or his last moments. The story explores the regrets in life.
Maarjaranayaki (Feline cats) – That lady with her house full of cats. I am glad that this is supposed to be the finale. There is an innocence in the love between a man or woman and their pet. This story explores that aspect of a lonely widow's love for her cats.
Overall, I enjoyed this book. Some were hard hitting ones and a few of them were light yet thought provoking. This is a mix that makes you think about the characters and leaves a lingering feeling of gloom in your mind.
If you know the language, pick it up and have a quick read.
 Disclosure : This website uses affiliate links. 
This is not a paid promotion but if you click on the link and purchase something Bookbugworld will receive a small commission.