Chilling Adventures of Sabrina | Spookbug spell
How Spookbug devours the Bookbug
It's the month of October and I see every other book blogger, booktuber or bookstagrammer doing something spooky for their readers. But then there is me who never had the guts to read anything mildly horror or paranormal. I mean no one can count Twilight series in any of these genres, right? But for me, this was reminiscent of the Twilight era with the whole mortal-immortal theme. I know this is a whole different animal here but I did love twilight when I was a teenager. Can't help it!
How Spookbug meets Sabrina
Just when October was about to pass with me continuing with a no-horror-for-me policy came the Netflix original series The Chilling Adventures of Sabrina. Adding to that I learn that it is based on a graphic comic series. Horror and graphic comics are something I have never tried reading. The thing about dark stories is as a reader who has a vivid imagination I am scared as hell that I would carry that fear with me as an aftermath.
Somehow watching a series won't be much of a trauma, I thought. Besides if I am deciding to just dip my toes into the genre, why not start this way, right? And I suggest if anyone of you wants to do the same, this is a smart way to begin.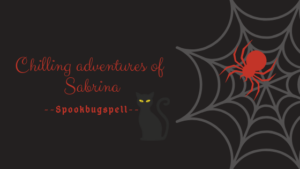 And the spookbug spell begins!!
For one when you watch something and then read, the over imaginative brain already has a visual limit. Second, it is a graphic comic series so there will be pictures of all the dark things mentioned. Sure enough, a way to keep yourself from imagining the worse. With that clear intent, coffee-clear mind and a self-induced binge watching I landed into the world of "The Chilling Adventures of Sabrina" and mind you wasn't that Spooky?
I went into it blind without knowing anything more than what was mentioned in the trailer. Let's just say I was as innocent as Sabrina and now I feel equally dark as her as each Chapter goes by. There is something innocent yet sinister about the face of Kiernan Shipka who plays Sabrina just like Maisie Williams from A Game of Thrones. That is one of the main reasons to look out for this series.
Sabrina is innocent and warm and as someone new to this genre you will surely empathize with her. Even if not new and someone who has already read the whole comic, I'm sure you will definitely be hooked right from the first Chapter. The ensemble cast does a great job with each character going through their own journey. It's intriguing and entertaining at the same time. Despite the fact that you are dealing with such a dark and gory theme there is a lure in the narrative which compels you to dwell deeper and watch further.
I was expecting a few cringe-inspiring scenes with the kind of gore and violence that a story of this kind accompanies generally but I had a secret weapon. My niece taught me a trick to watch a horror movie by blocking out the gore with your palm to the front of the television screen. Yep, now you know how brave I am taking tips from my niece to watch horror movies.
Nonetheless, the tip came in handy for a few scenes here and there. Other than that so far, the show hasn't made the gore look too dark and depressing. The tone of it is surprisingly light even though everything else is dark and vicious and gory. An odd combination, like the trick of the devil!
As you can see from my ramblings I enjoyed the show a lot and would recommend it as a must for Halloween binge watching spree with age discretion of course for sixteen and above. And you can read the comic for free if you are an Amazon-prime member. However, I would advise waiting till you watch the whole series to read. I couldn't contain myself and started reading the comic before completing the series and voila it opens with a massive spoiler!
Yep, laugh at me all you want comic readers but I have to cast the protection spell on the newbies.
What I liked about Sabrina is that it is not just about a spooky half-witch story. You have
• A half-mortal teenager trying to fit in both worlds
• A blossoming first love between Harvey Kinkle and Sabrina who are but at the opposing ends of fate.
• Zelda and Hilda: the quarreling sisters who literally want to kill each other and Sabrina's cousin Ambrose with his own mess.
• Sabrina's gang – Roz- the book lover, Suzie – the misfit, Harvey of course and Salem – the familiar and her parallel life.
So there it is, my pick if you want to get into the spirit of the Spooky October. Follow the journey extraordinaire of Sabrina Spellman and find out if she chooses the Path of Light or the Path of Night.